This is, simply, astounding.

We have a roster of Ignorant Dolt building up, but this, this just almost drains the life out of you, the galaxy-high, Ignorant Dolt stupidity of, supposedly, human beings.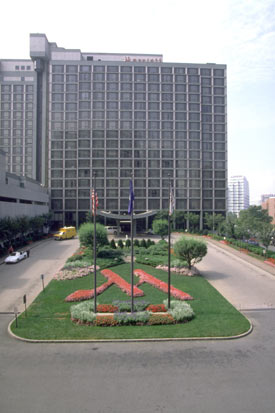 The Marriott Corp., through their property, the Stamford Marriott Hotel & Spa, is countering the law suit of a woman who was raped on their property, by blaming the woman, claiming she was careless, negligent and "failed to exercise due care for her own safety and the safety of her children and proper use of her senses and facilities,"

WTF?

And when you see how this woman was assaulted, you have to wonder, how on earth can the Marriott Corp., rather then harassing, and, attempting to intimidate this woman, wouldn't be front-and-center with helping her.

Or, at minimum, settle the suit out-of-court and go about their way.

Stamford Marriott claims woman was negligent in her own rape

The woman filed the lawsuit in May 2008, six months after Danbury native Gary Fricker, 56, was sentenced to 20 years in prison after a plea deal in the case.

On Oct. 10, 2006, Fricker stuck a handgun in the back of the then 40-year-old woman and forced her and her children, then 3 and 5, into their minivan as they left the hotel, according to court documents.

She let him go through her wallet and told him he could take it, but Fricker demanded she take off her clothes. Fricker sexually assaulted the woman for several minutes, pointing the gun at her and her children and threatening to sexually assault one of her children.

When another car pulled up, the woman screamed, and Fricker fled. Police arrested Fricker near White Plains, N.Y., three days later, and he immediately confessed, police have said.

Fricker, a transient carpenter, had been arrested 20 times before and was wanted in Florida on an arson case, police have said.
In front of her children, with a gun, and threatening, also, sexually assaulting one of her children?

And, what is behind Marriott Corp. countering this woman?

The Stamford Marriott Hotel & Spa, along with the firms in charge of managing the hotel and its parking garage, made the claim as part of a list of special defenses filed in state Superior Court in Stamford last month. Such defenses allow defendants in civil suits to argue they are not responsible for damages even if the plaintiff's story is true.
They're not responsible, even if the plaintiff's story is true ...

And, Marriott Corp. showed their heartless, Ignorant Dolt souls in going after her;

The hotel also subpoenaed several people involved with the family, including a Pilates instructor, friends, tennis partners and the children's baby sitter. The woman's attorneys argue the individuals subpoenaed do not know anything about the attack, that the subpoenas inadvertently identified her to those people and that it was merely an effort by the hotel's attorneys to intimidate her.
Hmmm ...

Maybe Marriott Corp, can open a Twitter account, and just begin smearing this woman daily, 140-characters-at-a-time.

Think about this, next time you are traveling, and choosing a hotel.

Do you want to patronize a company with this gutter-level of morals and empathy?

This could earn Marriott Corp, the Ignorant Dolts-of-the-Year title.

This is stuff of Ignorant Dolt, to the infinite power.