This was some bonus news, that came out yesterday;

Footage Restored to Fritz Lang's 'Metropolis'

For fans and scholars of the silent-film era, the search for a copy of the original version of Fritz Lang's "Metropolis" has become a sort of holy grail. One of the most celebrated movies in cinema history, "Metropolis" had not been viewed at its full length — roughly two and a half hours — since shortly after its premiere in Berlin in 1927, when it was withdrawn from circulation and about an hour of its footage was amputated and presumed destroyed.

But on Friday Film Forum in Manhattan will begin showing what is being billed as "The Complete Metropolis," with a DVD scheduled to follow later this year, after screenings in theaters around the country. So an 80-year quest that ranged over three continents seems finally to be over, thanks in large part to the curiosity and perseverance of one man, an Argentine film archivist named Fernando Peña.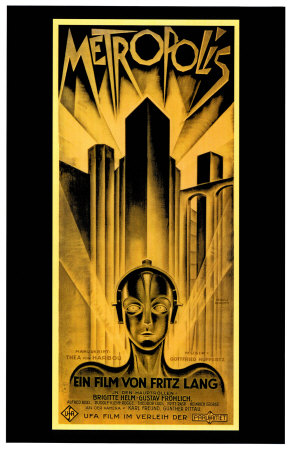 And why is this a big deal?

Made at a time of hyperinflation in Germany, "Metropolis" offered a grandiose version — of a father and son fighting for the soul of a futuristic city — that nearly bankrupted the studio that commissioned it, UFA. After lukewarm reviews and initial box office results in Europe, Paramount Pictures, the American partner brought in toward the end of the shoot, took control of the film and made drastic excisions, arguing that Lang's cut was too complicated and unwieldy for American audiences to understand.

[snip]

That a copy of the original print of "Metropolis" even existed in Buenos Aires was the result of another piece of serendipity. An Argentine film distributor, Adolfo Wilson, happened to be in Berlin when the film had its premiere, liked what he saw so much that he immediately purchased rights, and returned to Argentina with the reels in his luggage.

For too long, all these decades, 'Metropolis' was thought to be a science fiction movie.

From Wikipedia;

Metropolis is a 1927 German expressionist film in the science-fiction genre directed by Fritz Lang. Produced in Germany during a stable period of the Weimar Republic, Metropolis is set in a futuristic urban dystopia and makes use of the science fiction context to explore a political theme of the day: the social crisis between workers and owners in capitalism.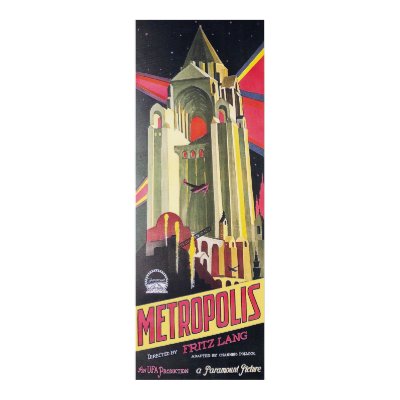 The full-cut version now straightens that out;

The cumulative result is a version of "Metropolis" whose tone and focus have been changed. "It's no longer a science-fiction film," said Martin Koerber, a German film archivist and historian who supervised the latest restoration and the earlier one in 2001. "The balance of the story has been given back. It's now a film that encompasses many genres, an epic about conflicts that are ages old. The science-fiction disguise is now very, very thin."

When it comes out, and if 'Metropolis' is in a city near you, go check it out

Yet ...

While I have seen 'Metropolis' a few times, I was more partial, and liked better, Lang's "M", the riveting thriller, starring Peter Lorre, that "has become a classic which Lang himself considered his finest work."


Bonus Riffs

Ohhhh ... That's What Avatar Is About ...

One For The Film Buffs ... Max Ophuls

Rififi Director, Jules Dassin, Blacklisted, Dies at 96

Swedish Film Icon Ingmar Bergman Dead at 89 ; Police Depressed, Working Through Emptiness, Not Ruling Out Foul Play