Back on the DL today, folks ... Dealing with the latest snowfall has, yet again, issued a setback to the hip injury, sustained about four snowfalls ago ... So, along with enduring pain, the energy level is zapped as well ...

Then again, not sure what we could have come up with today ...

Let's see ...

The Republicans aren't being obstructionists, they're just looking out for the country ...

And where o' where is our President Obama, of where o' where can he be?

Keyser Soze (aka, former VP Cheney) is baiting and goading the terrorists of the world, all but asking them to come and attack us again, so we will all say he was right to shit on the Constitution, illegal spy on us, and torture anyone who doesn't look like "us".

David Noon, over on Lawyers, Guns and Money, is on-the-money, with his "Dick Cheney is Insane";

In a truly just world, Dick Cheney would be stuffing envelopes at home for a living, or perhaps sorting plastic at a recycling center somewhere. And yet here he is, "in a non-descript suburban office building in McLean, Va., in a suite that could just as easily house a dental clinic," making his O Face for Politico. It nearly goes without saying that Dick Cheney proved to be one of the nation's greatest natural catastrophes -- a Dust Bowl in human form, the Spanish Flu incarnate -- and as such, he merits our enduring scrutiny. Still, it bears remembering that much of what he has to say from now on will be completely insane ..."

We also saw another example of why it is urgent, desperately urgent, that someone give Supreme Court Justice Antonin Scalia a couple-of-bucks, so he can go out and buy a personality ...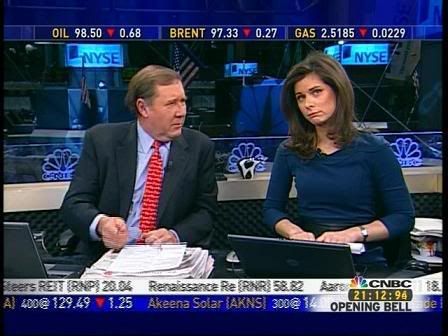 CNBC's Mark Haines, the jolly large guy that Morning Joke throws it over to for some pithy comments about how funny the Wall Street Meltdown is, went all Dick Armey on Arianna Huffington.

How appropriate his show is "Squawk Box" for, whenever I see Haines on the tube, I can't help but think of him as the obnoxious fat guy that anchors the end of the neighborhood bar, beer-and-bowl-of-peanuts perpetually in front of him, pontificating and lecturing everyone in the room, on any subject, and always, always being abjectly wrong.

And speaking of insanity, and obnoxiousness, there was "Fredo", peering into the looking glass, saying everything was hunky-dory at his Department of Injustice.

As we have done so often, we sigh, throw up our hands and say ...

Que Sera Sera - Sly & The Family Stone