Bon Bastille Day, to all our French friends!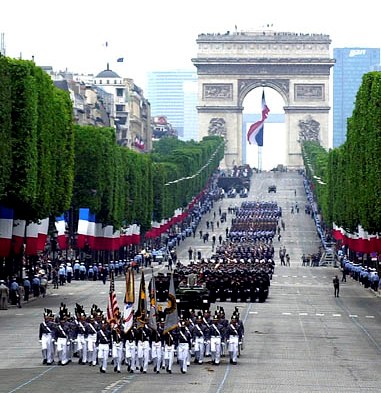 As we all know, this is the day marking "the 1790 Fête de la Fédération, held on the first anniversary of the storming of the Bastille on 14 July 1789; the anniversary of the storming of the Bastille fortress-prison was seen as a symbol of the uprising of the modern nation, and of the reconciliation of all the French inside the constitutional monarchy which preceded the First Republic, during the French Revolution."

If there's a party in your area, then get to partying!

We'll kick one off here, with one of The Garlic's favorites, Mireille Mathieu, who we first got hip to in the 1973 Claude Lelouch gem, "La bonne année".




Bon Bastille Day!

Mireille Mathieu sings La marseillaise



(Here's a cleaner, audio-only verision)

Movie fans may prefer this one, the scene from 'Casablanca'

Or, one from another French icon - Serge Gainsbourg chante La Marseillaise à Strasbourg

Go to the BBC for "In pictures: Bastille Day parade"