Maybe, just maybe, they can sell the movie rights to this, have it come out as a, kind of, Arabic "The Ghost and Mrs. Muir" thing.

Either that, or Barbara Eden may get a call, to see if she is available, and, how well can she throw rocks.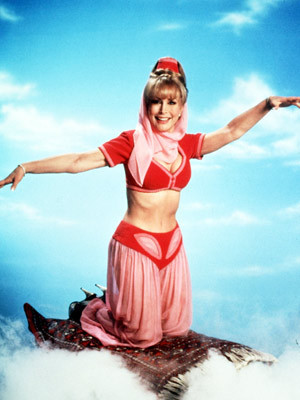 Saudi family sues genie, alleges harassment

- A family in Saudi Arabia has taken a genie to court, alleging theft and harassment, according to local media.

The lawsuit filed in Shariah court accuses the genie of leaving them threatening voicemails, stealing their cell phones and hurling rocks at them when they leave their house at night, said Al-Watan newspaper.

An investigation was under way, local court officials said.

[snip]

The family, which has lived in the same house near the holy city of Medina for 15 years, said it became aware of the spirit in the past two years.

"We began hearing strange noises," the head of the family, who requested anonymity, told Al-Watan. "In the beginning, we didn't take it seriously, but after that, stranger things started happening and the children got really scared when the genie began throwing stones."
From the LA Times;

The genie -- or genies -- had demands: "A woman spoke to me first, and then a man. They said we should get out of the house," said the family member, adding that his clan fled their home near the city of Medina.
A genie with demands ...

Something tells me there's a story, behind the story, here.

Hmmm ...

Use the ol' "Genie haunting my house" to get out of a mortgage, or back rent? ... A bad business deal? ... A less than bulging marriage dowry?

Maybe, it's just that they live next door to a drunk.

Or, perhaps, these people are related to the Palins, and are stark-raving lunatics