Much in the spirit of Eddie Izzards "Flag" routine, or Burgess Meredith's grunting "You need a manager" mantra in Rocky, Davenport, you need to have a better plan.

Davenport, Iowa, that is.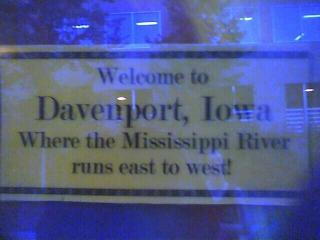 See, they took the bold step of actually doing that "separation of church and state" thing

Iowa Town Renames Good Friday to 'Spring Holiday'

One week before the most solemn day in the Christian year, the city of Davenport, Iowa removed Good Friday from its municipal calendar, setting off a storm of complaints from Christians and union members whose contracts give them that day off.

Taking a recommendation by the Davenport Civil Rights Commission to change the holiday's name to something more ecumenical, City Administrator Craig Malin sent a memo to municipal employees announcing Good Friday would officially be known as "Spring Holiday."

[snip]

"We merely made a recommendation that the name be changed to something other than Good Friday," said Tim Hart, the commission's chairman. "Our Constitution calls for separation of church and state. Davenport touts itself as a diverse city and given all the different types of religious and ethnic backgrounds we represent, we suggested the change."
Ahh, as you might anticipate, it got a bit noisy, so they backed down;

City employees, beginning with local police, feared the name change would violate their union contracts with the city, which specifies Good Friday as an official municipal holiday. Employees that work city holidays are paid time and a half.

Davenport officials called the name change an "error."

"The City of Davenport will be observing "Good Friday" as a City Holiday on April 2," read a statement released today.

"City Administrator Malin, in error, forwarded the recommendation to staff for further review and action, leading to release of a holiday notice with the holiday named 'Spring Holiday,' rather than "Good Friday," read the release.

All you had to do, Davenport, was contact us here at The Garlic.

We could have helped you out on selling this thing.

We have a list, you could have pulled from, to punch up the proposal;

Top Ten Cloves: Things The Vatican Has Done To Make Good Friday Even Better

Next time, call us.