For anyone, about 10-years-old, or older, in 1965, you couldn't escape drooling over, fantasizing about owning one, daydreaming of tooling around in the hippest, sharpest, coolest-looking automobile on the planet.

We speak, of course, about the Ford Mustang.




News came out yesterday, that the designer of the Mustang, Donald Frey, passed away.

Donald N. Frey, Designer of the Mustang, Dies at 86

Though much of the Mustang was borrowed from other Ford vehicles, including a Falcon chassis, the car developed an identity all its own for a younger generation in search of new looks and experiences. It was designed to appeal to both men and women, had a dash of elegance copied from European sports cars, and featured a galloping steed in the middle of its grille that buyers thought was, well, really cool.

Steve McQueen was almost upstaged by the souped-up Mustang he drove in the movie "Bullitt.''

Dr. Frey and his team created the car in just 18 months, and expectations were modest when it was introduced on April 17, 1964, at the New York World's Fair. Ford figured it would sell 80,000 Mustangs in its first year. It sold more than a million in its first two years.

[[snip]

At his death Dr. Frey owned an original Mustang, his son Christopher said, adding that he liked to drive it fast.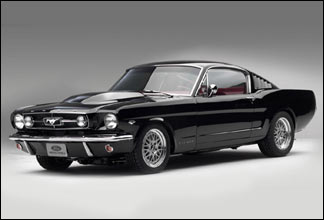 From the days that 'Madmen' would envy, Wikipedia offers;

At times besieged by autograph seekers for his role with the Mustang,[1] Frey had been most proud of assisting Ford in including safety improvements including disc brakes and radial tires in their lineup.[1] In 1967, TIME called Frey "Detroit's sharpest idea man".[1]

Jonathon Ramsey, over on Autoblog, has more;

Frey, who was assistant general manager and and chief engineer of a Ford Motor Company still suffering dry heaves over the Edsel, said he watched GM put bucket seats in the Corvair and rename it Monza, and it began to pick up with customers. There was also the dinner table motivation of his kids telling him his cars stunk.

Frey's first take on the Mustang was a mid-engined convertible in 1962 which, while working with Ford General Manager Lee Iacocca, he would develop into the car introduced to the World's Fair in 1964. When the coupe predicted to sell 80,000 units a year actually sold a million-plus units in its first two years – and then sold and sold and sold – Frey became an American legend. The rest is not just history, it's the present and the future, with the Mustang certain to be a staple in the Ford portfolio for years to come.
All that, and then, what has to be the all-time greatest product placement in history;

Bullitt - Steve McQueen Famous Car Chase




RIP Donald Frey!


Bonus Auto Riffs

Retro Garlic: HuffPo Still Impacting Auto Industry

What's Good For Tesla Motors ...

Breaking News! GM Cancels UAW In Favor of Adopting Huffington Post Business Model ... Celebrities, Auto Enthusiasts and Bloggers To Build Cars For Free; Huge Spike In Profits Forecast

Obit - Avis Founder Pulls Off The Road at 92

Obituary: DeLorean Founder Dies at 80