While some, today, will be celebrating the birthday of our current President (to which Greg Mitchell had a good Tweet - "sincerely hope there is NO birthday bash for Obama at Madison Sq Garden tonite with a blonde, busty movie star introducing him."), we here at The Garlic, choose to go with one that's bigger.




On August 4, 1901, a child was born, who would grow to become one of the best, and most celebrated, artist in history of the planet.

Today is the birthday of Louis "Satchmo" Armstrong.

From Wikipedia;

Renowned for his charismatic stage presence and deep, instantly recognizable voice almost as much as for his trumpet-playing, Armstrong's influence extended well beyond jazz, and by the end of his career in the '60s, he was widely regarded as a profound influence on popular music in general: critic Steve Leggett describes Armstrong as "perhaps the most important American musician of the 20th century."[4] Flea once proclaimed that "Louis Armstrong was probably the greatest musician that ever lived...one note implies that if he wanted to he could play ten billion notes, but just one simple note is a beautiful thing." [5]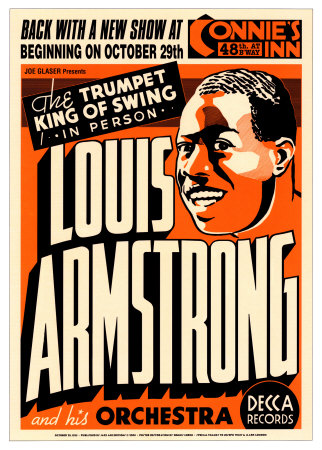 Rather than prattle on, much better to listen to "Pops".

This one is a favorite;

Louis Armstrong and Duke Ellington - Azalea


Azalea (1990 Digital Remaster) - Duke Ellington & Louis Armstrong

You should also hear these two;

Stardust Louis Armstrong



Duke Ellington & Louis Armstrong - C Jam Blues




Links

Redhot Jazz: Louis "Satchmo" Armstrong

Louis Armstrong House Museum

The Louis Armstrong Discography

Good (Belated) Post Alert: The Day Louis Armstrong Made Noise